Something To Look Forward To
Taking time for yourself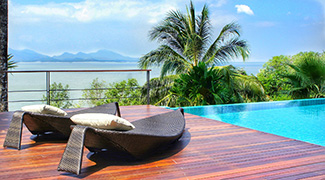 With the demands of practicing medicine coupled with balancing personal responsibilities, how easy it is to get caught up in our obligations and what I call the "have-tos"? No wonder we feel ourselves needing a vacation from it all!
One definition of "vacation" is "a period of suspension of work, study or other activity usually used for rest, recreation or travel; recess or holiday." After a well-planned and executed vacation, you feel refreshed and energized. Making it a priority to have something pleasurable to look forward to each day, some rewarding activity to anticipate each week, and an event to plan for each month will help maintain balance in an often physically and emotionally demanding life.
Your daily "mini-vacation" should ideally be something that is easily incorporated into your daily routine; something relaxing, pleasurable and healthy. That "simple pleasure" should not be dependent on another person – its okay for it to be all about you! Sipping a hot cup of tea, watching a favorite television show, walking your dog, or reading a chapter of a book allows you to escape from the demands of daily routine, if only for 15 to 30 minutes.
Weekly anticipated activities can involve other people you enjoy spending time with – maybe a date with your partner, a class to learn something new, or movie night with a friend. All of these things involve planning, a time commitment and sharing the experience with others. The time commitment may be tough at first – avoid the temptation of "penciling" this into your calendar – make this one in ink. An hour or two a week (out of 168) is a small compromise to help maintain balance and strengthen relationships.
Having a unique experience once a month helps restore balance to a demanding, professional life. Not many of us have the luxury of a full-fledged vacation on a monthly basis, but an afternoon at the zoo with the kids, a massage at a day spa, a sporting event or a night out at the theater certainly is doable!
Now, let's talk about that full-fledged vacation…
Lisa A. Witherite-Rieg, D.O.
Member, POMA Mental Health Task Force
Share this post: